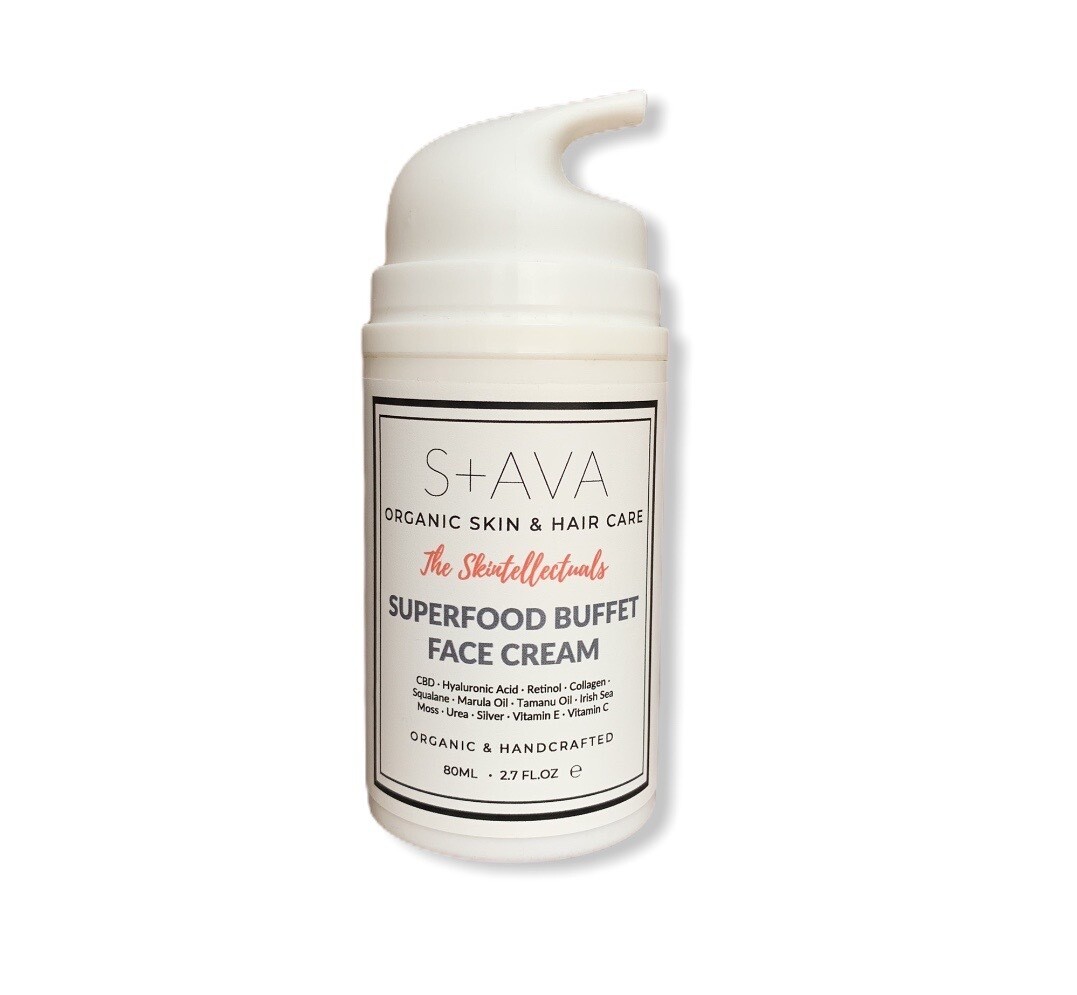 SUPERFOOD BUFFET FACE CREAM
SKU 00029
Product Details
Ingredients:
Hyaluronic Acid 1%, Retinol (Vitamin A), Marine-derived Collagen, Plant-derived Squalane, Organic Marula Oil, Organic Tamanu Oil, Organic Irish Sea Moss Gel, Urea, Silver, Vitamin E Acetate, L-Ascorbic Acid (Vitamin C) and Certified Natural Lotion Base

PRODUCT BENEFITS
Deeply hydrates and moisturizes the skin.
Anti-aging: Helps retain collagen.
Anti-acne.
Anti-hyperpigmentation.
Natural glow.
Improves elasticity of the skin.
Repairs damaged skin.
Anti-inflammatory properties.
High in antioxidants and vitamins.
With 8 ACTIVES & 3 SUPERFOODS
PRODUCT INFO

Hyaluronic acid ("HA") is often recommended by dermatologists and other physicians for its ability to improve skin's texture and appearance. Hyaluronic acid is a clear substance that's produced by the body naturally. Our bodies loose the capacity to produce HA as we age. New born babies naturally produce high amounts of HA, hence their perfect dewy skin. HA has the stunning capacity to attract and hold vast amounts of moisture (One gram (0.03 ounce) of hyaluronic acid can hold up to six litres of water). HA helps retain
collagen
, increases moisture, and provides elasticity and flexibility.
Vitamin E is packed with skin-loving moisture to heal, protect and hydrate skin. It's ideal for use after sun exposure, and to treat scabs, wounds, scars, cold sores and tattoos, protecting the skin with its advanced antioxidant properties.
Taken daily, research shows marine collagen combats signs of ageing by plumping fine lines, improving skin elasticity, firmness, moisture and hydration.
Ascorbic acid, or vitamin C, is one of the most important water soluble vitamins. It is essential for collagen, carnitine and neurotransmitters biosynthesis. Most plants and animals synthesize ascorbic acid for their own requirement. However, apes and humans cannot synthesize ascorbic acid due to lack of an enzyme named gulonolactone oxidase. For this reason, we need to ensure that our diets and beauty products are packed with vitamin C.
Squalane balances oil production, providing just enough moisture to keep the skin clear and healthy. Squalane oil also has powerful anti-aging properties and will help the skin age gracefully as well as anti-inflammatory benefits to help with skin conditions such as acne and eczema.
Irish Seamoss has a large healing fraction because it contains 92 out of the 102 minerals that the body requires. In addition to moisturising, seamoss can treat many skin problems, including blemishes, wrinkles, itching, sunburns, small skin wounds, eczema, skin allergies and other skin conditions.

Silver triggers an "amazing and unexpected regrowth of tissues" when applied to an infected area. In other words, it helps the skin repair itself, resulting in dramatically enhanced the healing of damaged skin tissues. Studies also showed that no cases of topical treatment gave rise to any undesirable side effects. Because it manages not to harm any surrounding tissue, there is also less scarring in general. This makes silver a super solution for scarring, anti-aging, and the restoration of the skin as a result of any condition (even including fungal infections).Silver is nature's natural antibiotic. It does not interact with any other treatments and in fact aids the success of prescribed treatments.
DIRECTIONS FOR USE
After cleansing and toning one's face, take desired amount and spread evenly onto your face and neck.

Save this product for later